What is composite bonding?
Composite bonding is a minimally invasive dental treatment which will redefine your smile. A tooth-coloured composite resin material is seamlessly bonded and blended to your natural teeth to alter your tooth's shape, shade, or colour for an aesthetically pleasing smile.
Am I a suitable candidate for composite bonding?
Several factors will determine the correct treatment for you. The composite bonding procedure is excellent for improving the appearance of tooth surface damage, chips, cracks, broken teeth, and the correction of slight tooth misalignment.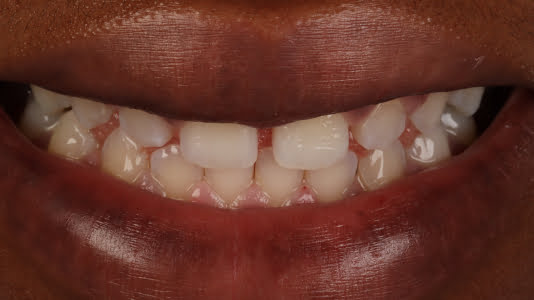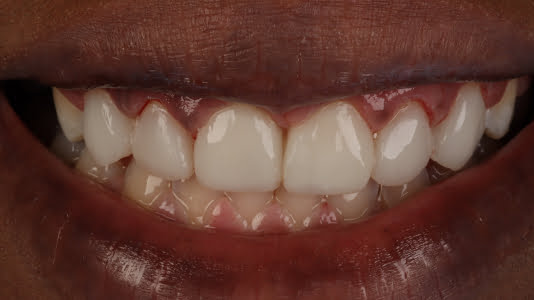 What are the advantages and disadvantages of composite bonding over porcelain veneers?

Veneers and crowns alike require the removal of healthy tooth tissue to make room for their addition. Veneers are also made in a laboratory, which adds time to the completion of your desired smile. Composite bonding generally requires less tooth tissue removal. It is therefore preferred, and it can be completed in a single session for your convenience. There are disadvantages, such as porcelain being a more robust material, so it is worth taking the time to talk to your dentist.
What should I expect during treatment?

Our aim is that all of our treatments are comfortable and calming in nature, and you can expect this at all times. Composite bonding is a prompt and pain-free treatment whereby we will use gentle chemical agents to clean and roughen the surface for a retentive bond. We then add a bonding agent, which is cured with a blue light. The final stage is the resin material delicately and expertly sculpted to your desired shape and cured with the same blue light. We will finish your teeth with a mirror polish for a dazzling smile.
What is composite edge bonding?

Composite edge bonding is where composite bonding material is applied only to the edge of your tooth to improve its appearance. Composite edge bonding can be used to make uneven, worn or jagged teeth appear straight and level. If you have a chipped tooth, composite edge bonding London can straighten the edge so that the chipped tooth appears smooth and in line with the rest of your teeth.
More patients from Knightsbridge and throughout London are using composite edge bonding to perfect the look of their teeth to give a symmetrical, even and dazzling finish. Composite edge bonding is a painless and fast treatment to instantly update how your teeth look. Get in touch to find out more.